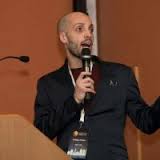 Hi, I'm Giuseppe Pastore,
and I'm an SEO Manager working both for International brands and small businesses. I'm in the online marketing industry since 2007, and mainly doing SEO. I've a strong technical approach coming to Search Engine Optimization, but I consider content as important as the website architecture.
These two different souls come from my academic path (Masters degree in Electronics Engineering) and a passion for reading and writing (I've published a book and several short tales). So SEO is probably the best espression of my two veins, since I can connect my technical-scientific vision and creative one, both of them necessary for a modern SEO professional.
With lateral thinking capacity I can approach link building breaking schemes and integrating social media marketing strategies as well, for structured online visibility projects. Read my blog posts if you want to check out my fresh ideas.