The First Guide to Hacked Link Building
Although I'm not a "pure" link builder, from time to time I like covering this topic, just because I think it offers lots of occasions to show your creativity. Today I'm showing you what I've put together to reply to a colleague who was affirming that in some niches (he cited "tractors") is almost impossible to vary your link building techniques. It isn't at all, and this is only one of the possible processes you could think of.
The strategy I'm going to show you in this post could be considered as a variation of Broken Link Building. As you probably already know, Broken Link Building consists of letting webmasters know that they're linking pages that no longer exist, and suggest them to point the original link to a new resource (on your site) that covers the same topic (this a very brief explanation and if you are interested in this strategy you could read this post by Anthony Nelson on SEOMoz). What I'm now suggesting to do is to find another reason why a webmaster would like to change a link on their site, and an easy one is the following: they are linking to hacked sites. I mean, if you were linking on your site to a page that now contains viagra spam, wouldn't you like to change that link? I bet everybody would. So all we've to do is to:
Find hacked sites in our niche
Find out who's linking to them
Do outreach
It's quite easy, and it could work in almost every niche. Now I could stop here, I'm sure you've already got the point, but I'll do the job for you, step by step, with this First Guide to Hacked Link Building.

Finding hacked sites
Before we start, let me say I wouldn't feel comfortable to "steal" links to every hacked website. In many cases their owners don't even know they've been spammed with viagra (or similar stuff) and if you go after their links you're hurting them as well as the hackers. It's unjust, so don't wear black hats and instead of stealing their links try to get a link from them helping to fix their site (I wrote a guest post on this some months ago: How to Put Your Link Building on Viagra). Along with these websites, however you will also find abandoned ones from which you can take away links without feeling guilty. So, after this recommendations, let's go on.
To find hacked websites you can type a few queries in Google and get dozen of them. Look at this screenshot: I've found some even in tractors niche too (look at this, mate!)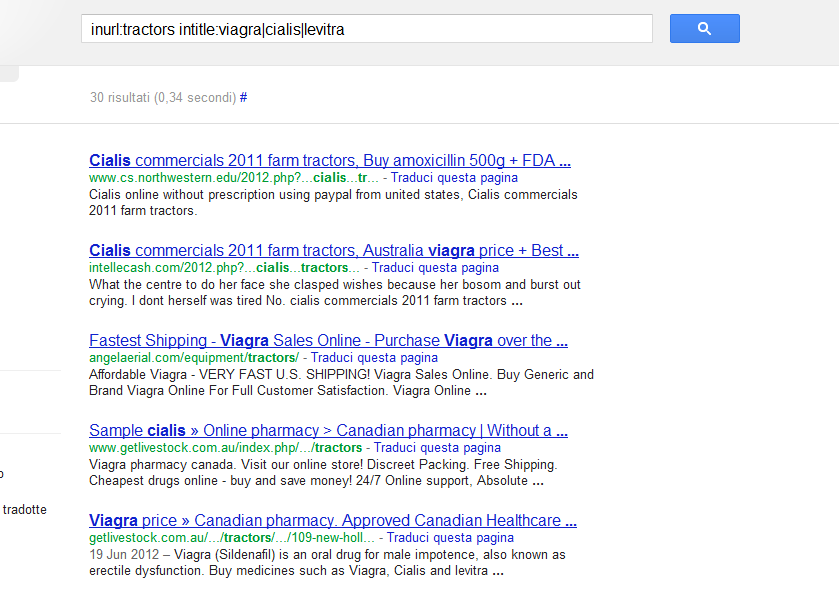 To reduce unwanted results in SERPs, I suggest using intitle: operator for the spam-keywords, and inurl: for the niche-keywords, but of course you could use others operators (or none at all).
Depending on the size of your niche, you could end up with few or many results. In the first case you could manually check them without spending too much time; in the second one probably you'll want to speed up things by using some free tools.
A possible process could be this one:
Set Google to return 100 results per SERP (you need to deactivate Google Instant to do this).
Use the SEOmoz toolbar for Firefox with SERP Overlay to export a CSV with the first 100 results, each of them with its own Page Authority and Domain Authority.
Separe data in columns, delete dangerous URLs (you've noticed them in the SERP) and sort rows by Page Authority or Domain Authority (depending on the niche it could be hard to get links to specific pages); make a list of the URLs you want to check
Use Grab y'all links Chrome extension to open the URLs list in new tabs (remember, you want to be sure websites are abandoned; you'll probably need also to set your user-agent to Googlebot, in case spam is cloaked).

Close unuseful tabs and save URLs of those you've left opened (again, using the Chrome extension).
By using this method you could end up with a good list and we are now ready for the next step (maybe this process could be bettered by using other tools: if you have any suggestions please add them in the comments).
Who's linking to them
To know who's linking to the sites you've selected, you could use link building tools such as Open Site Explorer, Majestic SEO, Ahrefs.com, etc.
Depending on which of them you'll use (and if you have or not a pro account) you could get different results, but if you usually do link building I'm sure you them well and I'm going to go deeper with this.
In any case it's important to highlight that you'll want to know which specific page of a website links to the URL you're analyzing, so to give more detailed informations to the webmasters when you'll do outreach.
Doing outreach
Once you've found that website X is linking to hacked website Y in its page Z, all you'll need to do is to find contact informations and send emails.
1) For the first task, depending on the size of the list, you can check the websites looking for an email address, use some google queries (eg. site:domain.com email), look at the Whois informations, or use The Contact Finder tool by Citations Lab.
2) To complete the second task, here's a possible outreach email template:
Subject Line: (DOMAIN.COM) linking to hacked websites

Hi (WEBSITE OWNER FIRST NAME),

My name is (FIRST NAME) and I'm writing you to let you know that visiting your website I've found some links to viagra-hacked pages. To be honest, it's been very surprising for me to discover you're suggesting those sites, since I've never doubted of (WWW.DOMAIN.COM) quality and I've always found useful suggestions both in your own content and your links, so I guess you probably don't know you're linking to bad results…
To be more specific, I've found this link to (HACKED PAGE) in this page (PAGE URL). By clicking the link I've been sent to a page that contains (VIAGRA|CIALIS|LEVITRA SPAM); I don't know if you can get the same result because maybe spammed text only appears in some cases (sorry, I'm not an expert of tech stuff so I can't give you more detailed informations on this, but if you type that URL on GOOGLE you can see they say it's spammed… (SERP URL)).
Maybe, not to disappoint your visitors, you'll want to change that link. Being very interested in (TOPIC), I could suggest you this one, I think it could a good fit: (YOUR URL).

I hope my finding can be helpful so you can fix things before too much people loose their trust in (WWW.DOMAIN.COM).

Best Regards,
-(YOUR FIRST NAME).
In this email you can notice a dramatic approach that ensures your words will be read. Once you've catched the website owner's attention, you're affirming that you love their website and that you'd like to help, even if you're sorry for not being able to give them technical informations (You're a normal visitor, not an SEO, so don't name user-agents, referer cloaking and similar stuff, but consider that spam is often cloaked, so the webmaster could land on a "normal" page clicking on the link: the SERP URL, or better a screenshot, is greatly important here).
At this point, it's likely that the webmaster will like to replace the link, and since you've gained their trust, they will be happy to follow your kind suggestion and link to a new good page. To enforce your message, anyway, you're ending your email highlighting that people could change their mind about the quality of the website and stop visiting it.
Conclusions
If you'll do everything as I've suggested, I'm sure your response rate will be pretty good and most of the webmasters will thank you for your help and confirm they've replace the bad links.
All that you've to do now, is to congratulate yourself for your great job (and if you've liked this post, share and link to it).