First of all, let me say some of the people I respect most not only in this industry but in my whole life are women, so – even if I hope it's not necessary – this is just a joke (but maybe something it's true 😛 )
And now, gentlemen and gentlemen, these are 10 simple reasons you shouldn't marry an SEO girl.
She will pretend you to know at least the first 30 positions. Perfectly.
Your rich snippet will be never rich enough.
She will soon disallow good user-agents (beerBot, sofaBot, girlsBot) in your robots.txt file.
You will have to learn (Google) Dance.
You will have to build a crawlable architecture in your socks and boxers drawers.
You will have to become a (Google) Shopping Expert.
Any GET /football-remote-control.tv requests will solve in an Error 404 Not Found.
She will often ask ambiguous queries and complain about your Knowledge Graph.
When you will misunderstand her (not provided) words you'll be in great danger.
Be sure. She will try to "optimize" you.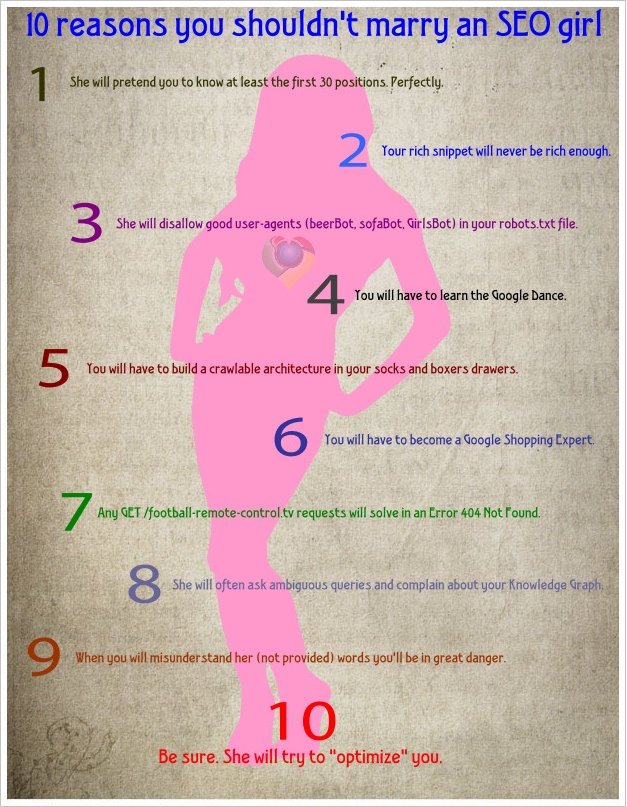 Unserious considerations by SEO Consultant Giuseppe Pastore.
To embed this wisdom gems in your pages, you can copy-paste the following code:
PS. I definitely suck at graphics, so if anyone thinks it would be worthy to realize a better image to be shared/pinned/tumblred/tweeted/embedded/+1ed/whateveryouwanted, just send me an email using the contact form.