Probably, those who follow me on Twitter have seen that from time to time I share links to guest posts I've published on English or American blogs. The reasons why I do guest blogging are several: the chance of earning some good links I hardly would receive in a spontaneous way, or of getting noticed by a wider number of people, just to cite the most obvious ones. So when I've written something I consider worthy to be shared, I tend to submit my post to well known websites (mostly when I only had an Italian blog, unlikely to be read worldwide). However, in this way I've got links from SEOmoz and Search Engine Journal, among the others, and they helped me a lot to rank for "SEO specialist" on google.it. But while quite everyone could think this is a good strategy, I'm wondering if by chance I've built an unnatural link profile to my Italian blog.
To clarify what I mean, let's start from what I consider natural. Here are some natural link profiles: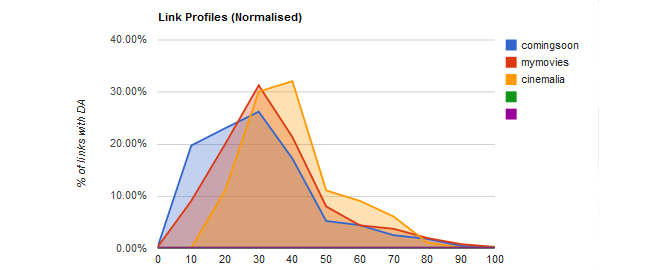 The graph is drawn out with a tool shared on SEOmoz some months ago. Of course, it's very simplistic to define natural a link distribution only on the base of the Domain Authority, as there are a lot of different aspects to be taken in count when it come to link profiles:
Acquisition speed
Followed / nofollowed
Type (Forum signatures / Comments / article marketing / directories / blog posts…)
Position (content / sidebar / footer)
Anchor text (brand / non brand)
Topic (same theme / different theme)
Language (same language / different language)
and so on. However, the authority distribution of linking domain could be a metric to be considered, and maybe not only when you have too much low quality links.
As you can see from the chart above, sites in a niche with many spontaneous links (movie reviews) have inbound link profiles that are quite similar.
In niches in which link building is very aggressive, instead, you can notice that link profiles are quite different.
These are some sites in the loans niche. The purple one, which could be taken as a natural profile (this is of a website I know doesn't do link building), is not so close to the others.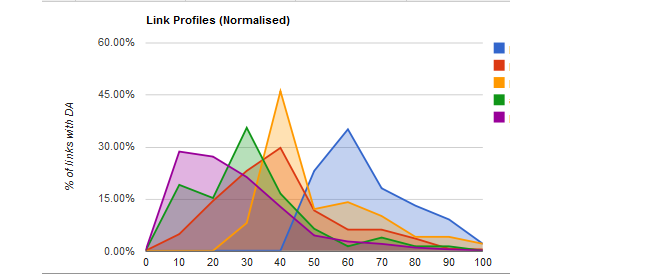 If we go now to consider the incoming link profile of my SEO blog Posizionamento Zen (in blue), to which I have sent high quality links via guest posts, compared to another site of mine (Thrillercafe.it), that has many spontaneous links, you immediately notice a different shape, having the former two suspicious spikes at DA 50 and 70 and more than 50% links from domains whose DA is greater than 50.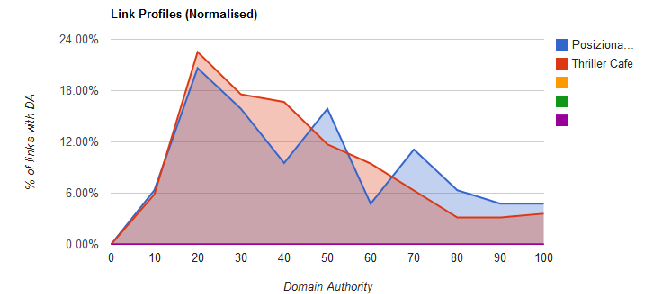 So, the simple question to ask is whether such a situation could trigger some algorithmic flags. I'm not sure the answer is no, as this condition significantly deviates from the "normal" one.
From this (not scientific) analysis, however, I can't conclude it would be better to get only "reasonable" links, since I haven't seen negative effect from having almost only great ones, but I also would suggest that when you go looking for links, you also build some from less authoritative domains; if you don't, some curious algorithms could ask you why smaller sites are not noticing your quality content despite your appearences on authoritative ones.
Having only strong links is not normal, don't you agree?
3 comments for "Guest blogging: are your great links too great?"
Pingbacks