I know, guys, this title is misleading, but before you start yelling "Black hat! Black hat!", give me some trust and read a few more of this post.
The idea for it has come from some comments to my Guide to Hacked Link Building: if you haven't read it maybe you'll want to check it, anyaway I was basically tweaking broken link building strategy, by suggesting to find hacked abandoned websites and contact those ones still linking to them to kindly advice changing the links to other resources (guess by whom?).
That post has received some great endorsements, but also a couple of comments that have led me to this new one.
One was from Chris Dyson:



Another one is the following:
There are some questions of ethics in this approach…..The First Guide to Hacked Link Building: via @zen2seo en.posizionamentozen.com/blog/the-first…

— Michael Cropper (@MickCropper) September 13, 2012
This last comment, combined that things have really gone like Chris was saying, has made me think that probably I haven't been capable enough to transmit the main message of the post: the idea behind broken link building has lots of variations, as a link building authority like Jon Cooper has pointed out: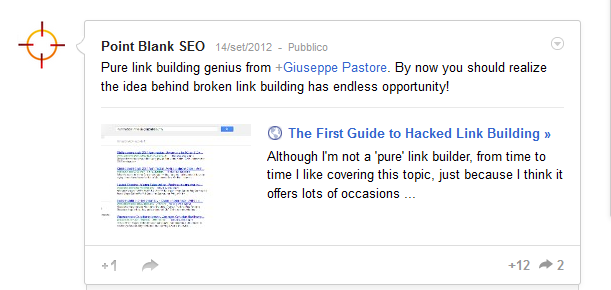 So let's come back to the title of this post: How spam comments might help your link building. If you've followed my reasoning, you already know what I'm going to tell you now. Just check spam comments to your blog.

Pick out a phrase, search it on Google in quotes and take note of blogs that have allowed spam comments on their posts. Are they worthy to be linked to? To me, not so much.
Would you feel guilty to ask someone to divert those links to a better maintained site? I wouldn't. I mean, if one doesn't care of having p0rn comments on their blog, maybe they don't deserve a so great link love.
To conclude, use the approach you feel more comfortable with, but mainly go after this idea: linking out to bad resources is something no one likes. If you help webmasters to change those links you don't only get some link juice for you, but also allow a better experience to people who will click on those links.
If you can think of any valid reason why a link should be changed, then maybe you can make that link yours.
11 comments for "How spam comments might help your link building"
Pingbacks